The Challenge
VISIONS seeks to update its logo for only the second time in its 30-year history.
Objectives
Establish VISIONS as a forward thinking, contemporary and reputable organization.
Communicate mission with a singular, simple and compelling visual.
Develop a logo that would set the tone for subsequent updates to web and print materials.
The match
Dedicated board member, Carlene Larssen understands that as the primary identifier of the brand, revitalizing their current logo is the crucial first step to addressing other branding needs. She posts a Logo Design project in hopes of finding a professional who could produce an unforgettable new logo.
Colette Lane, a graphic and web designer, applies to the project.
Colette sees this logo project as a great opportunity to creatively employ her expertise while furthering an important cause.
"VISIONS, Inc. supports diversity and inclusion, which is one of the main movements I support."
-Colette
The Solution
Colette conducts preliminary research and discovery after VISIONS educates her on their mission and goals for the new design.
Colette designs and presents three different logo concepts to a committee of people involved with VISIONS (including the Executive Director, Board Members and Staff).
The VISIONS review committee chooses one of the three preliminary concepts.
Colette returns to polish up the final design modifications to the selected logo design and provides a logo specifications document including colors, logo, font and layout (see below).
She submits the final approved logo, fonts, electronic files (AI, EPS, PSD, JPEG, and PNG) in full color, black, grayscale, and white.
The result
"A new logo that represents our global reach and the variety of world views we consider; the depth of our work on multiple levels; and the embracing, nonjudgmental, and safe environment we create in order to do the challenging work of diversity and inclusion. The colors and design reflect the energy and enthusiasm with which we approach our work."
— Carlene

"The logo design uses an already established "globe" brand element, at the request of the organization in a more modern abstract form. I chose high contrast colors to represent impact that VISIONS makes in the areas of diversity, multiculturalism, and inclusion around the world. The green and orange swooshes meeting each other and wrapping around the globe represent togetherness and building bridges between people."
— Colette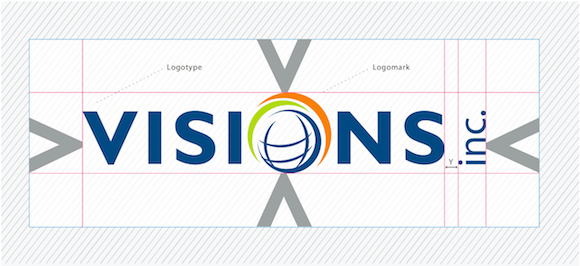 The impact
The success of the Logo Design resulted in Colette and Carlene immediately agreeing to work on a Website UI Project and then a WordPress Website Construction Project.
"[The logo] was the kick start for giving us a site that was cleaner, clearer, more vibrant, giving us not only a site but a more impact oriented look. It was the start of a big change for us, in looking not so much at what we do, but how we tell people what we do."

"The logo for us had a lot of constraints that might not have been for other organizations, so [Colette] worked within those really, really well."
- Carlene

"VISIONS is a great organization and a compassionate group of people. The project manager Carlene has become my friend throughout the process. Approvals and modifications were easily implemented and the project was a success."
- Colette
Colette dedicated 25 hours to the logo design, resulting in $2K saved for VISIONS.
The Organization
VISIONS' mission is to equip individuals, organizations and communities with the tools needed to thrive in a diverse world, to remove structural and cultural barriers that prevent full and equitable participation and to create environments where differences are recognized, understood appreciated and utilized for the benefit of all.
The Volunteer
Colette Lane has over twenty years experience in website design and development, graphic design, photography, and 360° virtual imaging. She specializes in consulting, designing, developing, and managing corporate websites, branding, advertising, and marketing collateral.