The challenge
With one brochure and no other materials, The SAMFund struggles to fill table space at the conferences and events they are invited to, so Sam's first priority is to create new materials that are both eye-catching and reflective of The SAMFund's work. Specifically, she needs to replace her 5-year-old brochure. Having completed a Vision and Mission Review and Brand Messaging project through Catchafire, she felt ready to give The SAMFund the facelift it deserved.
Objectives
Create a game-changing design and tagline based on The SAMFund's previous branding projects
Increase name recognition and brand awareness by distributing these materials at events and conferences
The match
Sam posts a Graphic Design Project.
The DW Advertising team, a Connecticut-based agency hoping to use their skills to give back, applies for the project.
After a two-way interview call, Sam and the DW Advertising team accept the match
"We looked at this project from a business perspective as a way to meet some new people and do something charitable. It was rewarding to work on a project that has such a positive effect on so many people. It was a nice way to network and, at the same time, look beyond ourselves to do some good."
~ Doug Woodward, Principal, DW Advertising
The solution
Sam completes a Design Brief in preparation for the initial project meeting
The DW Advertising team and Sam conduct an initial meeting to discuss the Design Brief and align expectations
Sam and the DW team discuss content to be included in the brochure
DW Advertising reviews the materials and together they decide the desired output format
DW Advertising provides 3 different visual design concepts as well as a new tagline: "Cancer isn't free."
Jen Clair, senior account manager, provides copy for Sam's review
Sam chooses one design concept for the next set of iterations designed by Art Director, Steve Jones
DW Advertising presents 2 additional rounds of refinements to the chosen design of the print materials (including multiple design concepts with each round)
The organization chooses a final design direction for print materials
As an addition to the project, Doug Woodward, the Principal at DW Advertising, offers to take photographs to accompany the brochure's testimonials to fully demonstrate The SAMFund's impact and new "Cancer isn't free" tagline
DW Advertising makes a final round of changes to the print materials before delivering the final print materials
The Result
Sam unveiled the fresh brochure and tagline at a fundraiser in November, celebrating The SAMFund's tenth anniversary and one millionth grant dollar awarded. The new tagline was so well-received that some guest speakers actually quoted the new materials to perfectly explain how The SAMFund helped them. Jen and Doug from DW Advertising attended the event, and were able to see the brochure at work.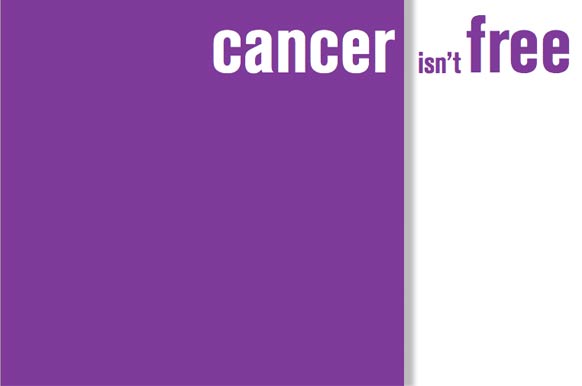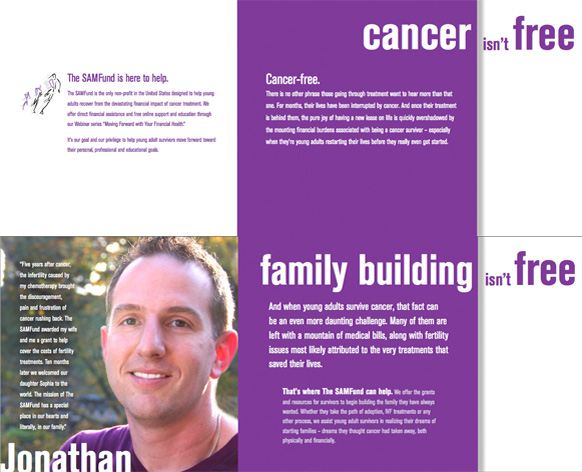 You can view the entire brochure here.
"Working with DW was easy and fun and inspiring. I can't say enough good things about them and this experience. There was no hiccup, no issue, no challenge whatsoever. DW Advertising gets full credit for the brochure. I told them our story, our experience and what I think is important but they took it and ran with it. To Catchafire's credit, I don't think we would have been in as strong of a position starting out the relationship with DW Advertising if we hadn't done [the Vision and Mission Review & Brand Messaging projects] first. It gave us greater confidence going forward with the other projects. Catchafire forced us to take a good hard look at our organization, and it was well worth it. To be able to take advantage of projects like these for organizations that don't have the funds to go out and pay for it in the real world is a huge opportunity."
~ Samantha Eisenstein Watson, Founder of The SAMFund

"We wanted to get some compelling stories to show people that cancer-free actually isn't free. It actually costs a lot of money. And, when a person is told they are cancer-free by their doctors, their next challenge is often facing a huge medical debt. That is what spawned the headline idea of 'cancer isn't free,' and Sam fell in love with that line. She felt like it said everything about her organization and, from her agreement on that point, we were able to execute a brochure using case studies to tell the story. When we showed her the new layout and tagline, she actually cried. They were happy tears, but I've never experienced that before in my life."
~ Doug, principal, DW Advertising
The Impact
DW Advertising's brochure with the new tagline "Cancer isn't Free" reframed the conversation around The SAMFund and the unique financial needs of young adult survivors. This project has brought both new supporters into the fold and rejuvenated members and volunteers who have been involved for years. The tagline has been used on T-shirts, in speeches, and is widely-used on social media – #cancerisntfree. Beyond that, Sam has found a life-long partner and supporter in DW Advertising, which contains the incredible talent and capacity to help them with plenty of projects in the future.
"To say that this project made it easier for us doesn't even do it justice. As a small organization with limited resources, limited budget, and limited staff, we hadn't been in a position to create new materials (nor did we have the creative skills to come up with a new message). Further, The SAMFund's mission isn't immediately intuitive to people – you can't understand someone's financial situation just by looking at them – so we are constantly seeking out opportunities to explain what we do and why. The 'Cancer isn't free' tagline is perfect because it gets people's attention and gives them a sense of what we're talking about.

This brochure has made it easier for us to engage with people who aren't yet familiar with The SAMFund. It also reinvigorated people who had been with us for many years. In so many ways, this kicked off a new chapter. We had been saying that same thing for years because it seemed to work, but when we hit the 10-year mark last year, we knew we needed to bring The SAMFund to another level which obviously wasn't going to happen if we kept doing things the same way. It's crazy to think about how many things revolve around this new brochure, but it's true. Not only do we have something new and beautiful to share, but we are utilizing the 'Cancer isn't free' tagline in other materials and as a way to increase recognition and understanding of our work."
~ Sam

"It was so nice to go [to the gala] and meet people who were affected positively by The SAMFund and actually see our work. By attending the gala, we had the opportunity to see the printed piece and observe people's reactions to reading it. Then, the message was repeated in the speeches that were given that night. It confirmed that the message fit The SAMFund. The work was rewarding, and it revitalized our agency team to see the way that their work impacted the organization."
~ Doug
DW Advertising's 20 hour project saved The SAMFund $7,000.
The Organization
The SAMFund for Young Adult Survivors of Cancer is designed to help cancer survivors recover from the financial impact of their treatment. The organization provides programs and support to help young adults get back on their feet. The biggest and longest-running program is a grants program, with close to $1.1 million in direct financial assistance awarded for a variety of needs since 2005. The SAMFund also provides education and guidance through a free Webinar series, "Moving Forward With Your Financial Health," presented in conjunction with financial professionals and representatives from cancer organizations. These hour-long presentations provide reliable information and resources surrounding practical and financial issues for young adults and are archived on The SAMFund's YouTube channel for free download by anyone who needs them.
The Volunteer
DW is a full-service advertising agency based in Connecticut. They have years of extensive experience, having created a variety of award-winning designs ranging from retail and consumer work to interactive and collateral. They've brought that experience to a variety of clients from Fortune 100 companies to local corner pubs. They enjoy bringing that to bear with the work they do supporting non-profits.