The Challenge
As a growing organization, tay-bandz was creating an identity and delineating their short- and long-term goals. The organization's marketing efforts were stretched thin over numerous efforts and needed strategic direction.
Objectives
Develop a marketing plan that increases organizational visibility.
the match
tay-bandz posts a Marketing Plan Project.
Kathy, a Product Developer and Marketing expert, applies for the project.
After the initial 2-way interview, Sue and Kathy accept the match.
"This project chose me. I logged into Catchafire, entered my info and received a bunch of emails that said, 'here are some projects that might be of interest to you.' This one just looked so interesting."
– Kathy
The solution
tay-bandz conducts inventory of its marketing practices and delivers all relevant history to Kathy.
Kathy meets with Sue to identify goals, target audiences, assess organizational capacity and allocate budget for marketing activities.
Kathy hosts follow-up interviews with each of the board members. Shes asks what they think works, doesn't work and what they want to do but have yet to implement.
By listening carefully to the team, Kathy develops a prelimenary review based on her findings through each interview.
Kathy shares her ideas with Sue via skype calls.
Kathy's final presentation suggests that tay-bandz should focus on one large marketing effort rather than many small ones.
Sue provides feedback, which Kathy incorporates into her deliverable.
The Result
Kathy's straight-forward marketing plan encouraged tay-bandz to redirect their creativity energy and focus on developing one large marketing effort, a collegiate fundraising event. This plan flourished into a collegiate a cappella competition, Tunes for Tay.
"Kathy was very instrumental and did her job to a T. I was so impressed. Before she proposed
anything, she tried so hard to find out what we are about and what our goals were."
- Sue
The impact
Kathy's idea for a fundraising event helped tay-bandz think about their organization in a new way and has become their main fundraising campaign. Tunes for Tay, is currently working with 50 colleges around the country to raise money and "Give Pediatric Cancer a Voice."
"Before we met Kathy we were stumbling, we didn't know what to do. It was Kathy's idea to reach out to the college campuses to fundraise, which goes along with our mission. (Being a kids health organization, we need to reach kids or young adults). We've really turned this event into our main fundraising campaign. Because of her work, I was able to hire marketing professionals (that we are paying). She is such a giving person and has so much knowledge, she can give so much to everybody."
- Sue

"I have a friend. This was a volunteer project that was meant to last for a few weeks and we ended up becoming great friends. For me this was an opportunity to do something that I really enjoyed and had no idea was possible, applying the skills I use on a regular basis to something that can make an impact on an organization. I serve at soup kitchens and do other volunteer work – all those things are good but it's not like anybody can't do them. When you do something that not many other people can do and you can give your time in that way and affect an organization, I can't even describe what it feels like."
- Kathy
Kathy's 50 hour project resulted in $7K saved for tay-bandz.
The Organization
Tay-bandz is dedicated to raising awareness and funding research for pediatric cancer. Tay-bandz/kids curing cancer was founded by Taylor Matthews who at age 11, was diagnosed with cancer. Taylor always believed that individuals could make a difference through private efforts. tay-bandz/Kids Curing Cancer is currently funding research at Memorial Sloan Kettering, Hopes & Heroes Children's Cancer Fund at Children's Hospital of Columbia Presbyterian and The National Institute of Health. Grants have exceeded $800,000.
The Volunteer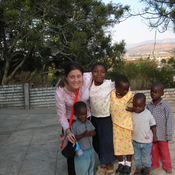 Kathy is a product developer, marketer and social entrepreneur with a background in IT management. Her experience also branches over into marketing, where she has worked with large for-profit organizations (Gillette, P&G, Iron Mountain) and small nonprofits to identify their target constituents, and formalize strategies for cost-effective outreach strategies. She has a degree and experience as an ESL Educator and even developed an ESL curriculum for tutors in the YearUp program. Her varied experiences allow her to look at an organization from many angles - and to find sustainable solutions.