The Challenge
Foreclosure is a complicated, archaic and intimidating process that lacks general public understanding. UHAB seeks to update their current infographic to one that can be run off of on an average copier to expand their capacity to use it. The message of this infographic needs to use democratic and encouraging language that inspires tenants to to get involved in their buildings.
Objectives
Develop an easily digestible infographic explaining the intimidating process of foreclosure in a way that educates and empowers tenants.
Create an english and spanish version of this graphic that UHAB can reproduce and disseminate using the printers in their office.
The Match
UHAB posts an Infographic project.
Donna Choi, a creative graphic designer with a philanthropic heart, applies.
Cea & Donna take part in a two-way interview and accept the match!
"Looking at the project listings, the subject of foreclosure and note sale was something I was interested in learning more about. I had done some infographics in the past but it looked like an interesting opportunity to learn something new and try to present the information within an infographic."
-Donna
The solution
Donna meets with the UHAB team in their NY office to discuss the objectives and key audiences for the infographic.
Cea provides Donna with all the data and information to include in the graphic.
Donna begins condensing and clarifying the information and drafting the infographic.
Donna presents the infographic draft to Cea and the UHAB team who provide feedback which Donna incorporates into the final design.
Donna presents the final version of the English version of the infographic which is then translated into Spanish.
The Result
A fresh infographic, "Survival Guide to Note Sale", illuminating the foreclosure process available in both English and Spanish.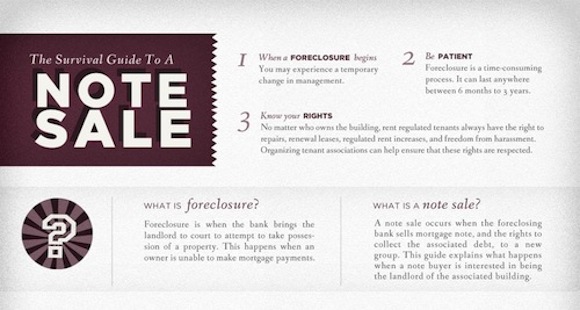 The impact
"Donna's infographic provides immediate educational information to UHAB's tenants and tenant organizations. We are hoping it helps to transition a large percentage of our tenants through crisis. To date, we service tenants in 28 buildings in foreclosure spread across 4 of New York City's boroughs. These buildings combined, are comprised of over 1500 units."
- Cea

"It was great - honestly it was a new challenge to work on. I like working on infographics a lot and this was a subject that I hadn't really done before. It was a really good learning experience, the UHAB team was very easy to work with - there was good communication back and forth and they liked hearing my ideas. Overall, it was a very smooth collaborative process."
- Donna
Donna dedicated 25 hours to the infographic, resulting in $2K saved for UHAB.
The Organization
The Urban Homesteading Assistance Board UHAB operates with the belief that all people have the right to safe and affordable housing, and deserve a say in the future of their homes. Since 1973 UHAB has assisted in the preservation of over 1,700 buildings and created shared-equity homeownership opportunities for over 30,000 households.
The Volunteer
Donna is a New York-based graphic designer and illustrator who is interested in all things smart, strange, and creative. She collaborates with organizations working on issues ranging from California statewide educational initiatives to anti-sex trafficking in Southeast Asia. She's licensed her characters for merchandise, shown her work at galleries in Los Angeles and New York, developed websites for artists and small businesses, and illustrated for greeting cards, magazines, and gaming companies.